今日は7月7日、七夕ですね。
シンプリー・レッドの"Stars"ですから【星のうた】そのもの!ですね。
これまで取り上げてきた【星のうた】は
こちら
です。
****************
◆なかなか彼女とわかりあえないでいる状況。でもそれはこれまで彼自身が彼女に対して、客観視できる立場にしか身を置くことがなく、彼女と同じ目線で同じ場所に立って理解しようとしてこなかったから??
 彼が"I wanna fall from the stars"と言うのは、「星」はみな頭上に輝くもの、頭上から照らすもので、自分のいる場所が彼女と一緒の地平ではなく、常に「上から」だったから…じゃないかな。
"Stars"の世界にいたんじゃ、彼女に自分の想いが伝わらない…。彼は"Stars"から「落ちる」ことを望みます。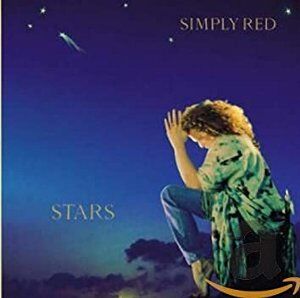 ◆でも、この曲の歌詞が上に書いたような物語であるとすれば、タイトルを"Stars"とするんだろうか? アルバムタイトルにも"Stars"とつけていますよね。
 曲の主題でいうと、コーラス部分の"I wanna fall from the stars"をタイトルにした方が伝わるのではないかと思いました。
◆おおっ、ここまで来て、この曲の"Songfacts"ページを参照したところ、次のようにありました。
This was inspired by the concept of the European Community. The EC's star symbol is tattooed on vocalist Mick Hucknall's arm.
EC(European Community=欧州共同体)、ですか。シンプリー・レッドの"Stars"はリリースが1991年。「EC」は1993年11月1日に欧州連合(European Union〔EU〕)として新しく発足したというのが欧州の歴史。この
ECのシンボルが"星"
なんですね。
ミック・ハックネルの腕に「tattoo」があるとのことですが、調べてみましたがわかりませんでした。
(後半に続く)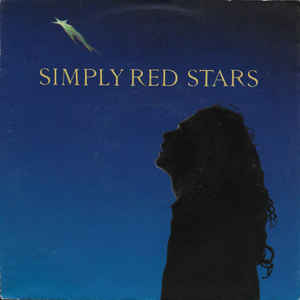 (Mick Hucknall)
Released in 1991
UK Single Chart#8
US Billboard Hot100#44
From The Album"Stars"
:原詞は太字
Anyone who ever held you
Would tell you the way I'm feeling
Anyone who ever wanted you
Would try to tell you what I feel inside
きみを抱きしめたことがあるヤツなら
こんな風な気持ちを伝えただろう
きみを求めたことがあるヤツなら
心の内側の感情を伝えようとしただろう
The only thing I ever wanted
Was the feeling that you ain't faking
The only one you ever thought about
Wait a minute can't you see that I
僕がずっと望んできたのはひとつだけ
偽りのない きみの気持ちなんだ
きみが思い描いてきた理想のひと...
ちょっと待ってよ わからないかい?
I wanna fall from the stars
Straight into your arms
I, I feel you
I hope you comprehend
星たちの間から落ちていきたい
きみの腕のなかにまっすぐに
僕は 僕はきみを感じてる
きみにわかってほしいんだ
For the man who tried to hurt you
He's explaining the way I'm feeling
For all the jealousy I caused you
States the reason why I'm trying to hide
きみを傷つけようとしたのは僕
ヤツは自分の感情をこう説明するんだ
きみに対するすべての嫉妬心が
隠そうとした理由をあれこれ並び立てる
As for all the things you taught me
It sends my future into clearer dimensions
You'll never know how much you hurt me
Stay a minute, can't you see that
きみが教えてくれるすべてのことは
僕の未来をはっきりとした次元に運んでくれる
きみはどんなに僕を傷つけたか 知るはずもない
待ってくれ きみはわからないのかい?
I wanna fall from the stars
Straight into your arms
I, I feel you
I hope you comprehend
星たちから こぼれ落ちていきたいよ
きみの腕のなかにまっすぐに
僕は 僕はきみを感じてる
きみにわかってほしくて
Too many hearts are broken
A lover's promise never came with a maybe
So many words are left unspoken
The silent voices are driving me crazy
どんなに多くの心が傷ついたところで
恋人たちの約束は「多分ね」で実現しない
あまりに多くの言わずにいた言葉
「静寂の声」ばかりで僕はおかしくなりそうだ
After all the pain you caused me
Making up could never be your intention
You'll never know how much you hurt me
Stay, can't you see that I
結局のところ すべての痛みはきみが原因さ
取り繕ってもきみの思うようにはならないよ
きみはどんなに僕を傷つけたかわかるはずがない
ここにいてよ わからないかい僕は…
I wanna fall from the stars
Straight into your arms
I, I feel you
I hope you comprehend
星を楽しんでなんていられない
今すぐきみの腕に飛び込むんだ
僕はきみを感じてるさ
きみもそのことをわかっててほしいよ
I wanna fall from the stars
Straight into your arms
I, I feel you
I hope you comprehend
星たちの間からこぼれ落ちたい
きみの腕にまっしぐらさ
僕は きみを感じてる
きみにもわかってほしいんだ
日本語訳 by 音時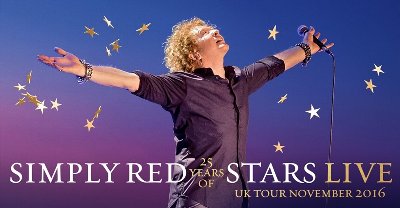 ◆日本のウィキペディアの"シンプリー・レッド"には次のようなことも書かれていました。
『スターズ』は、アメリカでこそそれまでのアルバムほどには成功しなかったものの、ヨーロッパおよびイギリスでは2年の間最も売れたアルバムとなった。タイトル曲の「スターズ(英語版)」はハックネルによる反サッチャリズムの政治的な歌詞をラウンジ・ジャズに乗せた、明らかに過去のファン層をつなぎ止めようという狙いの内容であった。
えっ"Stars"の歌詞ってそういうことなのかな?"スターズから転がり落ちたい"って…?この曲で言う"You"をサッチャーさんと読み替えると…確かに、
As for all the things you taught me
It sends my future into clearer dimensions
So many words are left unspoken
The silent voices are driving me crazy
After all the pain you caused me
Making up could never be your intention
などの歌詞に、イギリスの政治に対してミックが国民の声を代表するかのように歌った…という感じもします。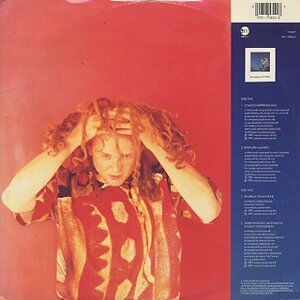 *アルバムやシングル"Stars"のジャケットの背景のカラーは青。これもこのECの旗の色と関係があるんだろうな。
"Stars"…恋愛の歌のように仕立てつつ、イギリスの国民の感情を歌にした、曲なんですね。
"七夕"の日ということで"Stars"を取り上げたのですが、最後に"ヨーロッパの歴史"の話になってしもうた(^▽^;)。
◆Simply Red - Stars (Live In Montreux, 1992)



◆これはすごい会場で演奏も豪華だなあ。(live in Cuba in 2005. Here in concert at the Gran Teatro)