夏から秋、あの夏を忘れられない...って歌が洋楽POPSには多いんだなって改めて気付かされます。





この曲「サンダー・アイランド」は、イントロが印象的。

"トゥルルル、トゥルル、トゥルル、トゥルルルル~"
"シャ、ラ、ラ、ラ、ラ、ラ、マ・レイディ~"

途中とラストに入るゴキゲンなスライド・ギターはジョー・ウォルシュです!

◆歌詞は「ひと夏の経験の歌」というのは合ってたけど"Out on Thunder Island..."を"alone in thunder island"と思ってたので、主人公の彼はサンダーランドの住人で、彼女は都会の娘?なんて思っていました(^▽^;)。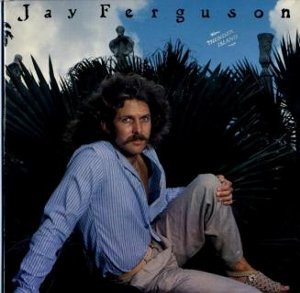 でも、そうではなく、彼は都会の人で、彼女が地元(サンダーアイランド)の住人なんですね。太陽の光が似合い、髪はナチュラル(with your hair undone)。彼はベイ(湾)の外から今も名前を呼んでいる。あの夏の彼女とのことが忘れられない...(中略)..."さよなら、サンダーアイランド"。
よくぞ、さよなら言ったぞ。えらい。
そう想い出は想い出。いつまでもしがみつくのはよくないっす。
でも…心のなかは…淋しいよね。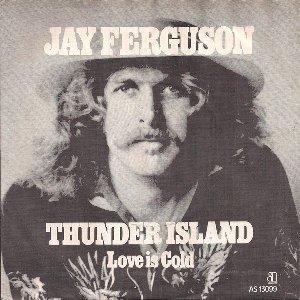 ◆ジェイ・ファーガソンは「スピリット」「ジョジョ・ガン」といったバンドで活動したあと、ソロになり「Thunder Island」「Shakedown Cruise」のヒットを放つ。その後ずっと忘れていたのだが、映画音楽の世界で成功したようですね。映画「ターミネーター」でも楽曲を提供、「エルム街の悪夢5"ドリーム・チャイルド"」では音楽総監督もしている模様。そしてなんと2005年に"ジョジョ・ガン"再結成も!(アルバム1枚発表、ステージはやらなかったようですね)
Writer(s) Jay Ferguson

Released in 1978
US Billboard Hot100#9
From The Album"Thunder Island"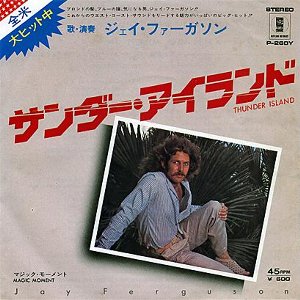 "Thunder Island"lyrics(英語詞は
こちらのサイト
からいただきました)

Sha, la, la, la, la, la, my lady.
In the sun with your hair undone.
Can you hear me now callin' your name
from across the bay.
A summer's day laughin' and a hidin'
Chasin'love out on Thunder Island.


太陽の下 君は髪をかき分ける
今 遠く湾を越えて君の名を呼んでいるのさ
僕の声が聞こえたかい
笑顔に包まれた夏の日
そして過ぎてしまった夏の日
僕は愛を追いかけてるんだ
「雷の島」(サンダーアイランド)を離れても

Hey, hey, hey, hey
She was the color of the indian summer.
And we shared the hours without number.
Until one day when the sky turned dark
and the winds grew wild
Caught by the rain and blinded by the lightning
We rode the storm out there on Thunder Island

彼女の暖かさはまるで小春日和
僕らは数えきれない時間を一緒に過ごした
空が真っ暗になり風が強く吹き付けてくるまで
雨がザァッと降ってきて稲妻も光るなか
僕らは嵐を乗り越えたのさ
あのサンダーアイランドでね

I held her close
until the storm passed
And we fell down laughing in the wet grass
Both our bodies drying in the sunshine,
sweet sunshine


嵐が通り過ぎるまで
彼女を抱きしめて引き寄せて
そして濡れた草の上で笑いながら転がった
お日様が僕ら二人の身体を乾かしたんだ
ほんと素敵なお日様だったんだよ


So
Sha, la, la, la, la, la my lady
In the sun with your dress undone
Now every mile away and every day
Cuts a little bit deeper
I'll remember the nights in the cool sand
Makin' love out on Thunder Island


そう、
シャ・ラ・ラ・ラ… 僕の好きだった女の子
お日様の光を浴びて彼女はドレスをはだけたのさ
何マイルも離れても毎日
少しずつ君への思いがつのるんだ
ひんやりとした砂の上
愛しあったことを思い出すだろう
あのサンダーアイランドの夜のこと


Goodbye Thunder Island




(Words and Idiom)
Indian summer=小春日和
(晩秋10月から初冬11月にかけて続く暖かい日)
without number=数えきれないほど度々
ride out the storm=嵐を乗り切る


日本語訳 by 音時

◆ジェイ・ファーガソンが中心になって活動していた西海岸のロック・グループ「ジョジョ・ガン(Jo Jo Gunne)」の"Run、Run、Run"(1972,最高位27位) ギターがギンギンでブギー調だね。




◆もう1曲のトップ40ヒット「Shakedown Cruise」(1979,最高位31位)。「Shakedown Cruise」は"テスト航海"って意味ですね。アルバム「カリフォルニア・ハードネス(Real Life Ain't This Way)」からのシングル。





(この記事は以下を参考にしました)
・Wikipedia Jay Ferguson (American musician)
・Wikipedia Thunder Island (album)
・「あの人はいま~ロックンロール・バイオグラフィー」